Writing historical fiction about the 1918 flu pandemic, which took place during the last year of world war one, has taken years of research. Since 2010, to be exact. My historical novel required learning about medicine in ww1, war nursing, the history of viruses, as well as all I could discover about the great influenza.
In talking with other authors writing historical fiction, I've discovered I'm not alone in often getting immersed in the research and not writing enough. Research can be a tempting distraction!
But it's often those interesting historical facts or anecdotes or pictures that liven our story and perhaps send us on our journey of writing historical fiction in the first place. My own novel was inspired by the influenza outbreak of 2009, which shared similarities to the 1918 flu pandemic and piqued my curiosity. When I read that historians and scientists thought the 1918 flu may have originated in my home state of Kansas, a story took shape in my mind and has grown and flourished over the past nine years.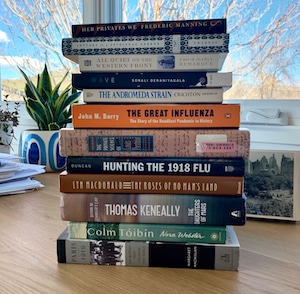 So many books and diaries and letters have offered historical details, perspective, and language. Here are a few of my favorites:
Testament of Youth by Vera Brittain (Published in 1933; a memoir of war nursing.)
The Great Influenza by John J. Barry (The definitive non-fiction account of the 1918 flu.)
The Good Soldier by Ford Maddox Ford (Written in 1915, the unreliable narrator tells a sad story of messy relationships.)
My Ántonia by Willa Cather (Published in 1918 and offering a wonderful sense of the Midwestern prairie in the early 1900s.)
A Separate Peace by John Knowles (Coming of age in wartime. I remember reading this in high school and never forgetting it.)
Her Privates We by Frederic Manning (Hemingway says about it, "The finest and noblest book of men in war that I have ever read."
The Daughters of Mars by Thomas Keneally (Who knew the author of Schindler's List has also written about nurses in WW1?)
Hunting the 1918 Flu by Kirsty Duncan (One scientist's search for a killer virus.)
All Quiet on the Western Front by Erich Maria Remarque (World War One from the German perspective.)
Wave by Sonali Deraniyagala (About a mother losing her family to the devastating tsunami in Sri Lanka; a powerful story about depression, grief, and resiliency.)
Flu by Gina Kolata (Science journalism at its best.)
The Last Town on Earth by Thomas Mullen (A small town in Washington state confronts the great influenza.)
Paris 1919 by Margaret MacMillan (Did you know President Wilson contracted influenza during the Paris Peace Talks?)
The Roses of No Man's Land by Lyn MacDonald (Firsthand accounts of war nursing.)
A Doctor's Memories by Victor Clarence Vaughan, M.D. (Science and medicine in the early 1900s and the great influenza.)
The Private Science of Louis Pasteur by Gerald L. Geison (An interesting science biography that taught me about the history of viruses and medicine in WW1.)
They Came Like Swallows by William Maxwell (Published in 1937, about the author's mother's death from the 1918 flu.)
The Andromeda Strain by Michael Crichton (Master of the medical mystery!)
Nora Webster by Colm Tóibín (Finding oneself after grief.)
Letters to a Spiritual Seeker by Henry David Thoreau (After all of the disease and death, I required philosophy.)
What resources are your favorites when writing historical fiction?