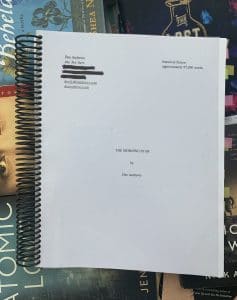 People who know I've written a historical novel set during the 1918 pandemic always comment that my timing is brilliant. I (very coincidently) finished revisions to my manuscript and began querying agents in 2020, when our own pandemic struck and our world shut down.
Whether my timing is brilliant or not is yet to be determined.
What I do know is my historical novel—while eerily relevant—is firmly set in the past and reminds us of the transformative power of grief and hope. Though the 1918 pandemic also brought about rapid deaths, strange symptoms, and the need for a vaccine… my novel is a story of a father and daughter—he the country doctor who cares for the first victims, and she a young nurse grappling with her future while caring for soldiers during the pandemic and last year of World War One. I suppose my protagonists are the healthcare heroes from the past who battled on the frontlines, just like our present day healthcare workers. My story feels familiar, but it's safely our world 100 years ago, allowing us to explore science, politics, and feminism from a distance and to consider how they have and haven't evolved.
The irony is I've been working on this story on and off for over ten years, inspired in 2009 by the swine flu outbreak. The first handful of those years was spent learning how to write, honing my craft to best tell the story that fascinated me. The idea that hooked and held me all those years was that the pandemic we know as the Spanish Flu possibly originated in rural Kansas. I grew up in Kansas and could easily imagine a doctor on the remote prairie first confronting what would become a worldwide pandemic. I thought it'd be fascinating to trace the journey of the contagion from patient zero to its climax of some 50,000,000 dead around the world. Also, given the natural isolation of Haskell County, Kansas, the virus would have most likely run its course if only it had not coincided with the last year of the Great War when soldiers carried it to army training camps and then around the world.
Like the virus—which in 1918 scientists and researchers thought was a bacterial infection—my characters travel across the country from Kansas to the east coast then on to the Great War in Europe. Though expansive in terms of place, the heart of the story is the emotion, relationships, and family ties that people rely on to persevere.
As an avid reader of historical novels, I knew it'd be a topic readers would be interested in. (The wisdom to write what you want to read makes complete sense to me!) And, there are surprisingly few novels set during the 1918 pandemic. The latest is The Pull of the Stars by Emma Donoghue, set in Ireland. (I've long been a fan of Donoghue's work, especially Astray and The Wonder.) Two other historical novels set during the 1918 pandemic and released in recent years are The Orphan Collector by Ellen Marie Wiseman and As Bright as Heaven by Susan Meissner. I've read these and the few others available and find them all even more fascinating given I now have lived experience to compare them too.

Though we often read historical novels to learn something new and experience a past we will never have access to, I believe my novel and others set during the 1918 pandemic now help us better make sense of our own lives and present world. I'm curious to know if you agree. Please leave a comment letting me know and add your name to my mailing list (to your right or scroll down) if you're interesting in knowing when my novel will be available.