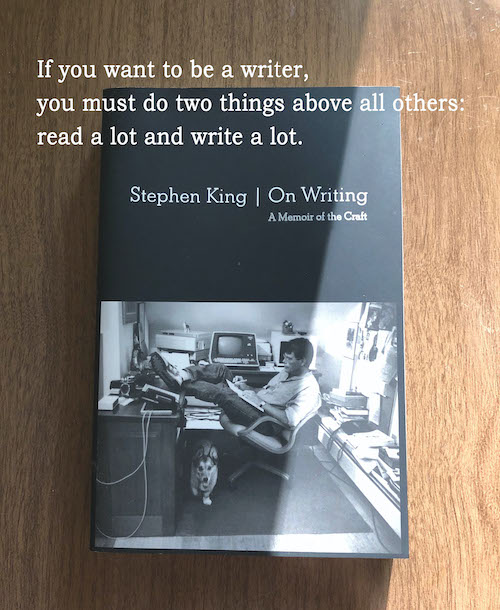 One of the great quotes in Stephen King's On Writing says, "If you want to be a writer, you must do two things above all others: read a lot and write a lot." The one benefit of COVID isolation for me has been the time to read and write, a lot!
I recently finished the novel Atomic Love by author Jennie Fields. I stayed up late one night last week, curious to discover how she was going to end this complicated love triangle that includes science, love, and espionage.
Here's What I Learned On Writing and Reading
I loved the protagonist Rosalind in this story by like… page 5. How did Jennie Fields do that?! I dissected the first pages: Rosalind is careful and practical (washing out her stockings in the sink). Irreverent, willing to use the word Jesus as an expletive (which was not the norm in the 1950s.) Sensitive, thinking about the people who died in the war and her role in it. (Empathy and introspection are important to me.) She's a scientist, though working at the Used and Antique Jewelry counter at Fields. (So, she's smart) but now that the men are home, the important jobs have gone back to them. (Gets the feminist in me riled up.) Men were attracted to her until they discovered what she did during the war and then found her braininess unappealing. (Yuck.) She's thirty, considered old, unmarried, and handsome. She hates that damn word. (Another expletive. She has passion, strong feelings.) "Her biggest fear is that she will become that woman—the one who lives alone, whom no one notices when she walks down the street. A woman who's become invisible, negligible. Poor Miss Porter. She never had much of a life." (So, like many (most?) people, Rosalind wants an intimate relationship (though I'm not sure about marriage.) She also doesn't want to be invisible and negligible, as many (most?) women of the time were only seen as someone's wife or mother, not seen for themselves. To me, Rosalind wants a full life that includes love and allows her to pursue her passion for science.) (Ah ha, she's just like my own protagonist, Helen! No wonder I immediately connected with her.)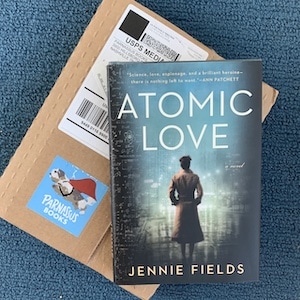 And then on page 5, we learn Rosalind is aware of and willing to embrace her sexuality. (Progressive!) She also feels she has to keep it a secret (because, you know, women aren't supposed to enjoy sex.) She's no longer in a relationship with a man named Weaver. (I was curious.) She no longer feels extraordinary as she did during her work on the Manhattan Project but responsible for the deaths of hundred of thousands. (Oh, wow, that's a great internal struggle outside of the whole struggle with love.)
(I was hooked.)
Author Jennie Fields goes on to do a brilliant job capturing the beauty and angst that accompany love. (I imagine most of us can relate to the euphoria or a broken heart and how they both can over-take everything else in your life at the time.) I very much appreciated her characters experiencing it in its complexity, being excited, being afraid, making mistakes, trying to reconcile it with everything else going on in their lives. As well as the complicated love triangle, I appreciated the plot and high stakes in Atomic Love. It felt realistic to me given the characters involvement in The Manhattan Project. I couldn't figure out how Fields was going to end the story in a satisfying and non-cliche way. I'll just say I loved how she wrapped it up and appreciated that the ending was left in Rosalind's very capable hands.
Reading Atomic Love was not only absorbing, it gave me a lot to consider on writing about my own protagonist. I worry that Helen's stakes aren't high enough. She's not a brilliant scientist working on nuclear energy, though she does have a strong desire to make a difference in the world. She, too, wants a life that allows her to pursue her passion, be seen for herself and have love. But she's some thirty years ahead of Rosalind in 1918, and also ten years younger, and therefore has fewer role models and less experience. Will today's readers see her journey as authentic for her time?
I write because I don't know what I think until I read what I say.

Flannery O'Connor
Thinking of another author who inspires me, in the spirit of Flannery O'Connor, I think I must "… write because I don't know what I think until I read what I say." I need to write about the barriers Helen would be up against in her journey to find herself and determine her future. I need to consider her aspirations and how they would or wouldn't allow her to have love too. And, does love = marriage? I think it did (usually) in 1918. Something else to write about so I can process. Good thing I have my own role models! Thanks Stephen and Jennie and Flannery for the guidance on writing well and reading a lot.